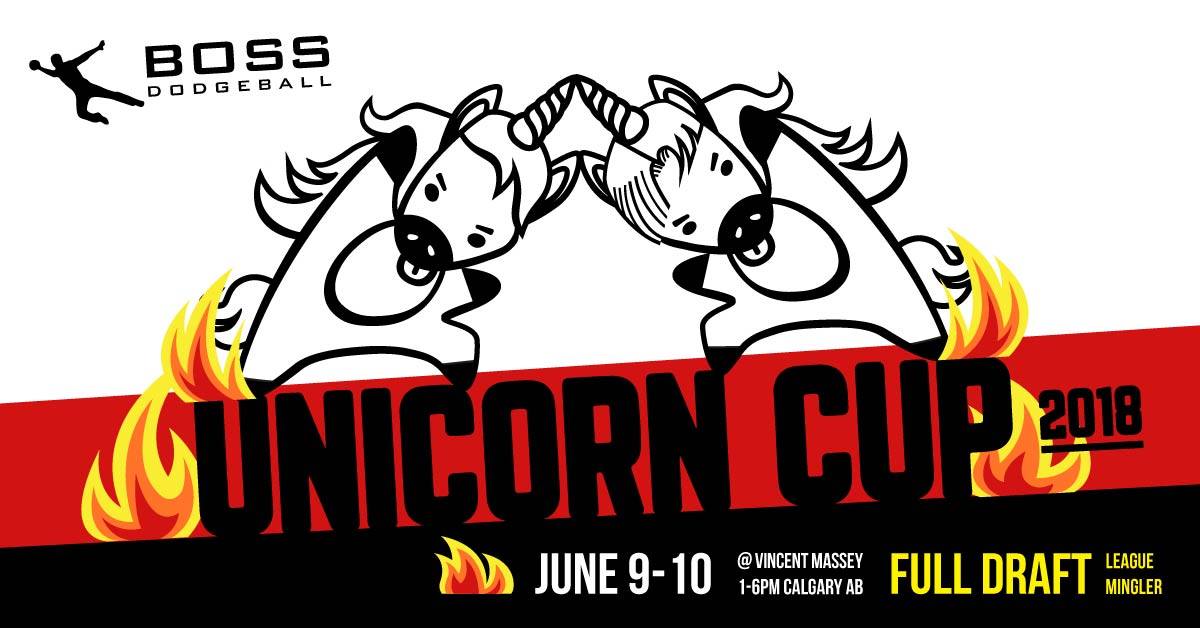 07 Feb

Unicorn Cup 2018

Dates: June 8, 2018, 9:00pm – June 10, 2018, 8:00pm
Location: Calgary – Vincent Massey School
Cost: $40 per player (includes a special edition BOSS shirt!)
Sign up link: Will post up on Saturday Feb 10 around 3pm PST

*Clicking going to the Facebook event page is just for a calendar reminder, registering on the site is the only way to ensure your participation! We will create a separate group for communications once all the participating players have signed up*

Basic timeline:
Feb-Mar: Registration
Mid Apr: Live Draft on stream
June: SHOW TIME

The Event:

Unicorns and Dodgeball, 2 of the most magical things come together this June to give you a legendary weekend in Calgary!

BOSS Dodgeball League is super excited to host the Second Annual Unicorn Cup and repeat the fun from last year when players from Calgary, Surrey, and Vancouver got together for a weekend of intense dodgeball and equally intense shenanigans.

Come and enjoy sunny Calgary, play over 50 games of dodgeball, and celebrate the weekend and new friendships in TWO pub events, ALL WITHIN 24 HOURS!

The feedback from our event in 2017 was that everyone loved the concept of a full draft tournament, so we will do that once again.

Last year, players from different leagues were mashed together to play a competitive tournament where every team stood equal fighting chance. Needless to say, the dodgeball action was amazing, but what was truly memorable was all the awesome new friendships that were made regardless of where you're from…or what you did……. as long as you love DODGEBALL babyyyyyy (sorry words just puked out when I started typing 'where you're from' and now I don't even want to delete it so deal with it)

Think of this as a prelude to the much anticipated Tournament of Champions hosted in Vancouver at the end of July. The Unicorn Cup is a great way to get to know more of these wonderful and passionate dodgeball players in a mingler style tournament before we head to ToC and kick each others' butts for realsies. Having more familiar faces at ToC will definitely amplify the fun!

BOSS Dodgeball is super excited to be hosting everyone, please let us know if you have any questions about the event!